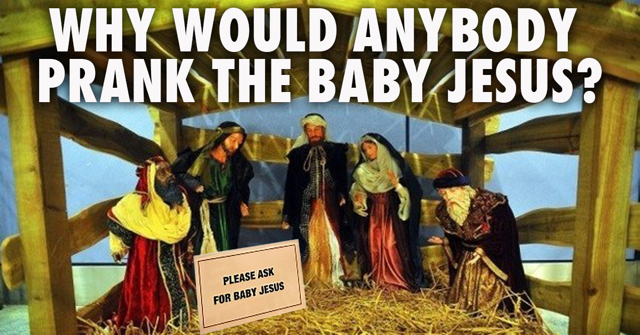 It was a nativity lover's dream -- more than 1,000  angels, wise men and shepherds gathered around Mary, Joseph and the holy baby at a park in Provo, Utah. They set a new Guinness record for the largest live nativity scene. Incredibly, there were no Grinches demanding that everybody quit having fun.
Everywhere you looked, it was "Mary, Joseph, Baby Jesus, angels, shepherds... and a lot of angels really," organizer Austin Craig told CBS affiliate KUTV.
It could have been a scene out of Kirk Cameron's new movie "Saving Christmas." Originally scheduled for only a two-week release in a few select cities, the film has drawn crowds -- and been held over, prompting the addition of new theaters.
And just like the beloved, centuries-old tradition of displaying nativity scenes, the film has had its unexpected Scrooges -- such as activist atheists urging their social media followers to fill several public movie critique sites with scurrilous "reviews."
Similarly nationwide, nativity scenes have been under attack -- again by pranksters. Police are investigating "kidnappings" of the baby Jesus in Pennsylvania, Indiana and Florida.
In Fargo, North Dakota, manger scenes are displayed in stores -- without the infant Messiah.
"Because of frequent thefts, local stores selling nativity sets have taken to keeping the newborn king behind glass or in storerooms, out of reach of shoplifters," reports Archie Ingersoll in Fargo for the Forum News Service.
"They like to steal baby Jesus," said Susan Hendershott, manager of Lee's Hallmark in Fargo. "That will catch up with you someday."
While other figurines are stolen, too, baby Jesus is the most popular target of thieves, Hendershott said.
"I don't even put all my nativities on display anymore," she told Ingersoll. "We've had to lock them up."
At Scheels Home & Hardware in Fargo, the earthly father and virgin mother -- a holy family set for $74.99 -- sit on a shelf adoringly hovering over a small sign that says, "PLEASE ASK FOR BABY JESUS."
Hurley's Religious Goods, which may have North Dakota's largest selection of nativities, boasts 40 styles ranging in price from $20 to $5,000. "You usually sell the holy family and the stable, and people can add on to them," said store owner Jeaninne McAllister.
At her Sioux Falls, S.D., store, theft has prompted a change in policy, she said.
"We don't put the baby in the set anymore," she told Ingersoll, admitting she was at a loss to explain why someone would swipe the swaddled son of God.
"Baby Jesus theft, of course, is nothing new," writes Ingersoll. "It's a longstanding prank that continues to plague churches with holiday creches. Some churches have even gone so far as to plant GPS tracking devices in their baby Jesus figurines to catch thieves."
Back in Provo, the Daily Herald reports that a Guinness World Record judge determined there were 1,039 participants in their world's largest nativity -- along with a camel, donkey and sheep.
That tops the record of 898 people last year at a nativity scene in the United Kingdom.
Most of the Ogden volunteers showed up dressed in white, to play the part of angels, in a massive heavenly host lining a hillside behind the manger, reported CBS affiliate KUTV in Salt Lake City.
So, it just goes to show that there are angels out there -- even if the pranksters are louder and seem to get more media attention!