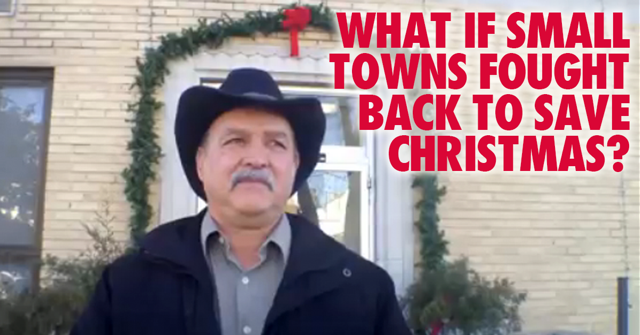 Officials in the Ozark Mountains of northern Arkansas are defying atheist grinches trying to shut down a Christmas display on the county courthouse lawn. Baxter County officials "rebuffed atheists' efforts to seek the removal of a nativity scene from a courthouse lawn," reports Billy Hallowell for the Blaze.
And they're not the only ones. "Nativity scenes will appear in nine State Capitols this Christmas—five of them due to the work of the Chicago-based Thomas More Society, a national public interest law firm," reports Tom Ciesielka for Charisma News. 
And of course, there's film and TV superstar Kirk Cameron, whose movie "Saving Christmas" expanded into more cities this weekend and is being held over past its planned two-week limited run nationwide. In it, the star of Fireproof and the original Left Behind films stands up with those who would attack any celebration of Christ's birth.
Standing up to out-of-town Scrooges, officials in rural Mountain Home, Arkansas, are telling complaining atheists to leave their creche alone. "The nativity scene," reports Hallowell, "is erected each year on the Baxter County Courthouse lawn  in memory of Coralee Faith Spencer, a deceased local woman."
Following court guidelines, the display includes secular elements as well, including a Santa Claus and a Christmas tree, the Associated Press reported.
And it includes a disclaimer proclaiming local citizens' right to express their religious beliefs: "During the Holiday Season," reads the plaque, "the County of Baxter salutes liberty. Let these festive lights and times remind us that we are keepers of the flame of liberty and our legacy of freedom. Whatever your religion or beliefs, enjoy the holidays. This display is owned and erected by private citizens of Baxter County."
The American Humanist Association is livid and demanded the nativity scene be removed. Their protests have been ignored.
The county's new resolution, which was adopted by all 11 quorum court members, cited a 1994 Supreme Court Case under which nativities are permitted so long as they include a disclaimer. Officials also noted that no public workers were involved in erecting, funding or taking down the Arkansas courthouse display.
Meanwhile in Chicago, Thomas More Society is celebrating the eighth year that statues of Mary, Joseph and the baby Jesus have resided in a small stable at the Illinois State Capitol. The Christian law firm has also helped secure permits for Nativity scenes to be displayed this year in the state capitols of Florida, Georgia, Rhode Island, Texas and on the Governor's Mansion lawn in Oklahoma.
"These Nativity displays represent classic free speech and the free exercise of faith by private citizens in the public square," explained Tom Brejcha, president and chief counsel of the Thomas More Society. "However, the issue has not been without controversy," he added. "Nativity displays represent a constitutionally protected expression by private citizens in traditional or designated public forums, where the sole role of the government must be that of a viewpoint-neutral gatekeeper assuring open access for all citizens to have their 'say.' Such private expressions of religious belief in the public squares of our nation are not merely tolerable but fully deserving of robust legal protection."
Kinda cool to know that lots of people are working together to save Christmas -- or at least preserve our right to celebrate it!