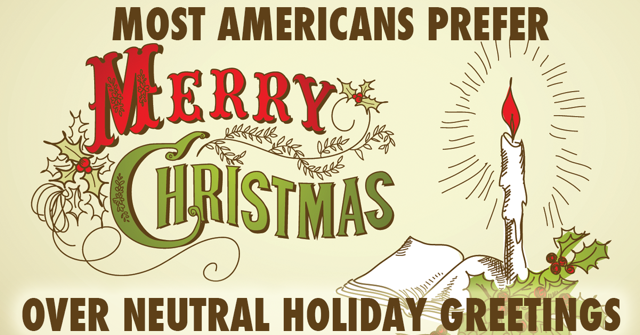 If you feel like proclaiming "Merry Christmas," you're not alone. In recent years, a popular campaign to promote traditional Christmas greetings has shamed those who proclaim "Happy Holidays" or "Season's Greetings."
"It turns out a majority of Americans support the Christmas comeback trend," reports Husna Haq in the Christian Science Monitor.  Among them are Texas state legislators, who passed a special law declaring that schoolteachers may declare "Merry Christmas" without fear.
"When asked whether they prefer stores and businesses to greet their customers by saying 'Merry Christmas,' or less religious terms such as 'Happy Holidays' and 'Season's Greetings,' 57 percent of Americans picked 'Merry Christmas,'" according to a Pew Research Center survey. Only 27 percent picked less religious terms.
For years, "Fox News host Bill O'Reilly has publicly and frequently railed against what he calls the 'War on Christmas,'" notes Haq, calling for an end to the "Happy Holidays Syndrome," which O'Reilly calls "an insult to Christian America." In 2013, former Alaska Governor Sarah Palin published a book on the subject,  Happy Holiday IS a Merry Christmas.
And, of course, this year, TV and movie star Kirk Cameron has packed theaters with his surprise cinematic hit "Saving Christmas," which extols the merits of celebrating Christ's birthday without apology. The movie was scheduled for a limited, two-week run around Thanksgiving, but has been held over nationwide and extended into new theaters.
For more than a decade, the American Family Association has chided major retailers who omit the word "Christmas" from their December advertising, encouraging supporters to boycott stores on the "Companies Against Christmas" list.
This year, reports Haq, Lowe's, Walmart, and Hobby Lobby received the organization's 5-star rating for "promoting and celebrating Christmas on an exceptional basis." On the other hand, Barnes & Noble, Family Dollar and Pet Smart landed on the "naughty" list for using neutral language supposedly unoffensive to America's religious minorities.
"The organization's campaign has worked," notes Haq. "In the past five years, the group has seen the percentage of retailers recognizing Christmas in their advertising rise from 20 percent to 80 percent, according to Randy Sharp, director of special projects at the American Family Association. One clothing retailer that changed its policies – thanks in part to the organization's campaign – was Gap Inc., which sent a letter to the AFA explaining its new policy.
"Starting today, every Gap Outlet window will have signs that say "Merry Christmas" along with Christmas trees and wreaths throughout their stores," Bill Chandler, Gap Inc.'s vice-president for global corporate affairs, said in a personal letter to Buddy Smith, executive vice president of the AFA.
In Texas, "Merry Christmas" has special protection.
"Texas lawmakers sent notices to schools," writes Jim Forsyth for Reuters, the British news agency, "informing them that new legislation allows students and teachers to dress in festive garb and say 'Merry Christmas' all they want without fear."
"Legislators in Oklahoma and Louisiana have proposed similar bills," observes Haq.
The "Merry Christmas Law'" passed nearly unanimously, reports Forsyth, backed by lawmakers "who feel that seasonal religious festivities have come under attack because of political correctness. It also covers the Jewish celebration of Hanukah."
"We hope to see fewer school districts being naughty and more districts being nice," the president of a group called Texas Values, Jonathan Saenz, told Reuters.
"That allows parents, teachers, students and school administrators to celebrate Christmas and Hanukkah in public schools without fear of censorship, litigation or persecution," the co-author of the bill, State Rep. Dwayne Bohac told a local Austin ABC affiliate.