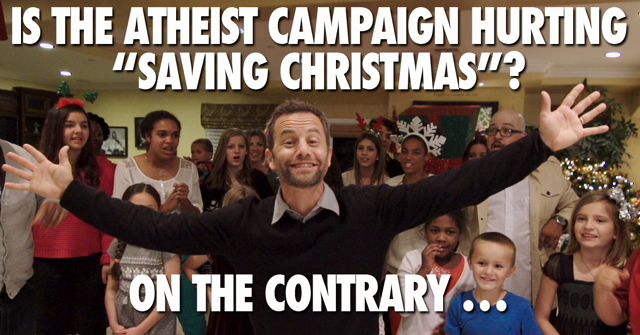 "I don't care what you say about me, just spell my name right," declared famous showman P.T. Barnum -- founder of what today is "The Greatest Show on Earth," the Ringling Brothers, Barnum & Bailey Circus.
Playwright Oscar Wilde put it another way: "The only thing worse than being talked about is not being talked about."
To quote Barnum again: "There's no such thing as bad publicity." He knew that if his show featured a new attraction that drew no reviews at all, the public wouldn't know about it  -- and the show would be a failure. Obviously, he preferred good publicity. However, he knew that bad publicity also sells tickets.
That's a lesson militant atheists apparently have forgotten. In the last week, we've seen an unprecedented campaign against Christian moviemaker Kirk Cameron's film "Saving Christmas." But the ironic thing is they are inadvertently filling theaters with moviegoers wondering what all the fuss is about.
"Saving Christmas" was originally scheduled for a limited two-week run in a few selected cities. However, with all the publicity that atheists have generated denouncing the film, it has been held over -- and is expanding to new cities.
Atheists helped spread the word by urging non-believers to log onto the Internet Movie Database website and as well as the review site Rotten Tomatoes vote "Saving Christmas" the worst movie in history.
Here's a social media post by "religion is a parasite," urging readers to vote. Notice that one follower responded with a pang of conscience, wondering if only people who had seen the movie should vote.
The nationwide atheist campaign succeeded in stuffing the ballot box -- and suddenly all sorts of media which had ignored the film was announcing the news -- that "Saving Christmas" is the worst movie ever made.
For example, media gadfly Perez Hilton suddenly jumped into the discussion, telling his millions of followers:
However, the public isn't stupid. Here's a Facebook post that resulted:
Here's another response:
And so, something designed to hurt a godly cause has actually helped it. Interestingly enough 4,000 years ago, one of God's greatest prophets had thoughts on that topic:  Isaiah 54:17 -- "No weapon formed against you will prosper."
There's also "The day is coming when God will reckon with wicked men for their hard speeches" (Jude 1:15).
And: "You will not have to fight this battle. Take up your positions; stand firm and see the deliverance the LORD will give you ... Do not be afraid; do not be discouraged. Go out to face them tomorrow, and the LORD will be with you'" (2 Chronicles 20:17).