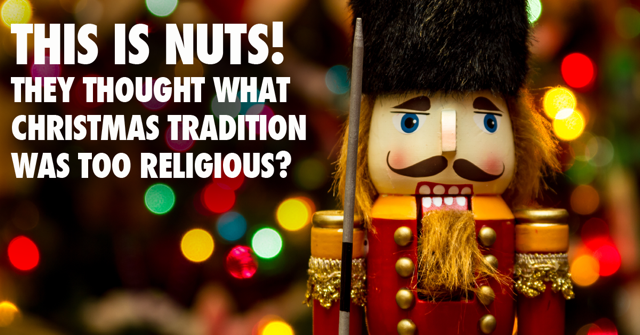 Of all the nutty reports we hear every Yuletide, this one cracked us up. "Officials at a Massachusetts elementary school have reportedly reversed course after considering canceling a trip to see 'The Nutcracker,'" writes Billy Hallowell of The Blaze.
Butler Elementary School in Belmont, Massachusetts, has long sent its second-grade students to see the Tchaikovsky children's ballet. However, that tradition came under fire amid local atheists' complaints over the musical presentation's religious themes, WHDH-TV reported.
It's one thing to have to come to the rescue of Christmas every year -- a task moviemaker and superstar Kirk Cameron has undertaken in his new film "Saving Christmas" showing nationwide -- but now we have to defend the Dance of the Sugar Plum Fairy?
What exactly is religious about "The Nutcracker?" As the curtain opens in the musical extravaganza, family and friends have gathered to decorate a beautiful Christmas tree. Darling kids are summoned  -- and stand in awe of the sparkling lights and decorations. But nothing religious has happened yet!
A party begins on stage and the young actors -- traditionally local amateurs in tights and tutus debuting with professional ballerinas and danseurs -- show off their dance moves, then march in step. Adults show off their toe-dancing skills and amid much music, presents are given out to the children. (Nothing religious yet!)
An owl-topped grandmother clock strikes eight and a mysterious toymaker shows up with four lifelike dolls who dance to the delight of all.
Sweet little Clara is delighted with the toymaker's wooden nutcracker. Naughty little boy Fritz breaks it. Clara is heartbroken. That night, she slips downstairs to check on it as the clock strikes midnight! Dancing mice fill the room. The Christmas tree grows to dizzying heights. A battle breaks out between gingerbread soldiers, dolls and mice. The nutcracker is transformed into a handsome prince who leads Clara through a forest with dancing snowflakes. (Have you spotted anything religious yet?)
Enter a lot of dancing candy and waltzing flowers as Clara twirls happily with the prince before the curtain falls.
The play is a December tradition -- much like making a fuss over Christmas has become. That's so absurd, Cameron notes in "Saving Christmas" -- after all, this should be a wonderful time of celebration!
In Massachusetts, the bickering broke out after the school's PTA debated canceling this year's field trip to watch the ballet -- after complaints about the ballet's religious messages. Parents supportive of the musical drama protested, baffled that anybody would confuse "The Nutcracker" with a nativity scene.
The emergency meeting was called, dramatic speeches were given. It was decided "The Nutcracker" will continue after all.
But nobody ever managed to explain what is religious about Tchaikovsky's magical ballet.