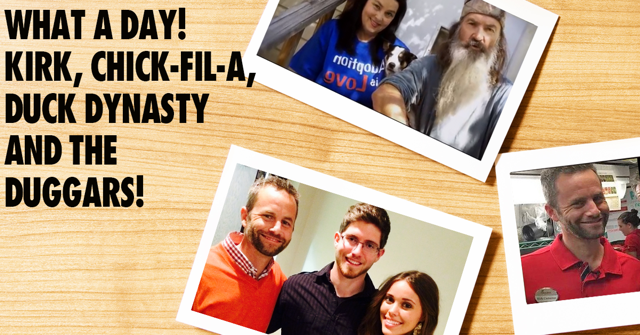 It was quite a day for Kirk Cameron. First, he worked the drive-through window at a Chick-Fil-A restaurant in Greenville, S.C. Then he watched a video of the Duck Dynasty Robertson family endorsing his new movie "Saving Christmas" -- and reminisced about playing volleyball with the Duggar family of TV's "19 Kids & Counting."
It doesn't get much better than that.
Cameron had visited the Duck Dynasty clan at their home in Louisiana, and let the Duck Commander creators preview his holiday film, which will be released nationwide on November 14.
"The heavens opened and a shaft of light came streaming down when Duck Dynasty's King and Queen, Phil and Kay Robertson, cooked my 44th birthday dinner in their country kitchen, spoiled us boys with outdoor fun and faithful inspiration, and the Robertson family watched 'Saving Christmas' in their camouflage living room!" Cameron shared on his Facebook page.
In the video, Phil and Miss Kay told viewers why they should watch the upcoming film, according to the Entertainment editors at Christian Today.
"Hey, America, and all you 'Duck Dynasty' fans out there," Phil proclaims in the video. "Two thousand and fourteen years ago, something rather large must have happened, because we're still counting time by what happened. It's all about Christmas. That's when God becomes flesh.
"Kirk Cameron's 'Saving Christmas' is a movie that's coming out," he continued. "If you really want some insight into what Christmas is all about, check it out."
The movie is a family-friendly comedy that reminds Christians "why this is not only a holy day, but a celebration as well," Cameron told Christian Today.
Cameron also shared "Saving Christmas" with the Duggar clan of "19 Kids & Counting" earlier this month, noted Christian Today. Cameron and his daughters attended Jessa Duggar's wedding to Ben Seewald, and spent time fellowshipping with the devout Christian family.
"We were also invited to the Duggars' house after for volleyball, campfire singing, and dessert till 1:30 a.m.," Cameron told Christian Today.
"We even got to worship together at church the next morning." noted Cameron, "and Jim Bob and Michelle were excited to share with family and friends about 'Saving Christmas.'"
And what was he doing at the South Carolina Chick-Fil-A?
"Actor Kirk Cameron was seen working the drive-thru at the Chick-Fil-A on Haywood Road in Greenville on Monday," reported Joseph Pereira for WBTV News in Charlotte. "The 'Growing Pains' star was at the store between 5:30 and 7 p.m. donning his own name tag and red Chick-Fil-A shirt.
"Cameron then made an appearance on His Radio" -- a Christian radio program -- "during their morning show from 7 a.m to 9 a.m. on Tuesday."
What a great day!