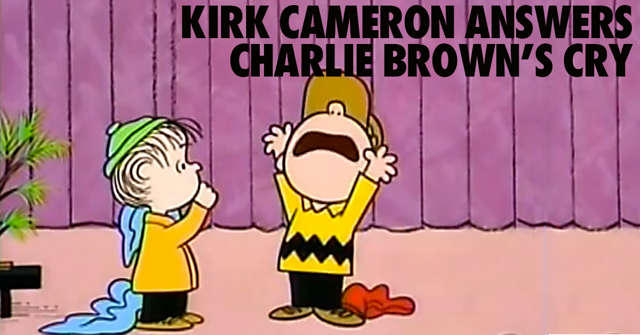 In Peanuts cartoonist Charles M. Schulz's classic A Charlie Brown Christmas animated television special, the young comic strip hero finds himself depressed at the onset of the holiday season. Lucy suggests he direct a school Christmas play, but as he earnestly seeks the true meaning of Christmas, he is both ignored and mocked by the Peanuts gang.
Actor Kirk Cameron understands completely. Pursuing Charlie Brown's quest, Cameron wrote his own movie "Saving Christmas," which has been in production since last Christmas and will be ready for nationwide release November 14.
What is his message to people who've become sick of watching all the Christmas ads on TV?
"Well, that's what Charlie Brown said in his Charlie Brown Christmas special," Cameron told the Assist News Service,  "that he's really not sure what Christmas is all about, and he kept asking people to tell him. 'Will someone please tell me what Christmas is all about because all these other things seem to have gotten in the way?'
"We can see that again today where so much of the commercialism and all of the advertisements can really crowd out the baby Jesus."
For a lot of people, Christmas is a painful time. The holidays seem to generate extra stress at home and the challenges of family gatherings. Does Cameron have any advice on how they can redeem Christmas for themselves?
"Well, I would start just by watching Charlie Brown's Christmas," he told Assist. "There's just something magical about it. Something special to get you thinking about the simplicity of Christmas and the magnificence of Christmas, the splendor of Christmas. And you can celebrate that whether you're rich or poor, whether you're white or black or Christian or of any religious persuasion.
"Christmas is for everyone because everyone needs a Savior. I'd start there, and then I'd get tickets to see 'Saving Christmas' on with your family, and let that give you inspiration to make this the best Christmas ever."
What about the annual war on Christmas? Is that what Cameron's saving the holiday from?
"There's also a group of people that want to say that we shouldn't celebrate the birth of Christ at all," he notes, "and secularists would love to pull down every manger scene and get rid of it.
"And there's even people in the church that want to say if you want to honor Christ you should not celebrate Christmas because Christmas originally they say was a pagan holiday.
"So Christmas trees are bad, and St. Nicholas is bad, and gift giving really misses the point. And I strongly disagree -- that's my point in Saving Christmas."
A Charlie Brown Christmas received high ratings and acclaim from critics when it debuted in 1965. It has since been honored with both an Emmy and Peabody Award. It became an annual broadcast in the United States, and has been aired during the Christmas season traditionally every year since its premiere. ABC currently holds the rights to the special, and broadcasts it at least twice during the weeks leading up to Christmas.
Will Cameron's "Saving Christmas" enjoy the same warm place in viewers' hearts?
Decide for yourself November 16.