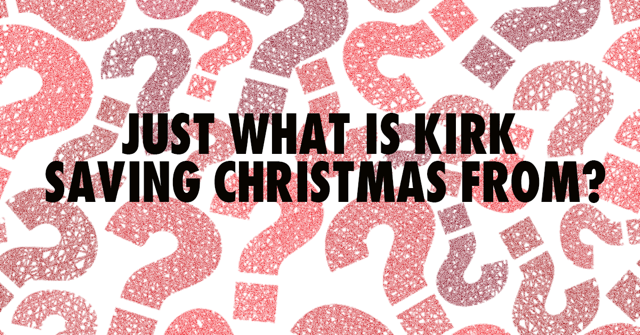 What a great idea -- saving Christmas! Each year we hear about all the threats to America's favorite holiday, says John Younts. "Of course, the question is—from what and from whom are we saving Christmas?" asks the parenting expert and author of Everyday Talk. "Is it from commercialism? From saying 'Happy Holidays'? Or from the secularists and the politically correct?"
Each of those is worth consideration, writes Younts: "Kirk Cameron, however, has a different focus. He wants to help us save Christmas from ourselves! In 'Saving Christmas' we learn that we have lost the real meaning behind many of our most basic Christmas traditions."
"Saving Christmas" is Cameron's new film, scheduled for nationwide release on November 14.
"'Saving Christmas' will let you and your family see Christmas in the true light of Scripture as it was played out in actual history. This is a film that entertains and informs. It is a film to be shared with others. It is a film that will cause you to sing with renewed hope and wonder. Kirk Cameron will help you and your family save Christmas!"
For example, you'll learn that "the familiar images of lights and trees carry a rich and biblical theological significance," notes Younts. "These ideas did not originate with the Druids or other pagan influences. Did you know that there is actually a very good reason to celebrate Christ's birth in December?
"Also, St. Nicholas was not a pudgy mythical character who got lost in the Arctic and discovered flying reindeer—he was a champion of the faith who helped preserve the integrity of the Bible!
"Surprised?" asks Younts. "Well, be prepared for more wonderful surprises. Christmas celebrates the advent of the hero of redemptive history. Yet Jesus did not arrive on earth in an idyllic setting of gentility and safety. In reality, he was born in sparse surroundings as the threat of death hung in the air. We have much to learn about why and how we celebrate Christmas.
"See 'Saving Christmas' and help bring joy to the world!"