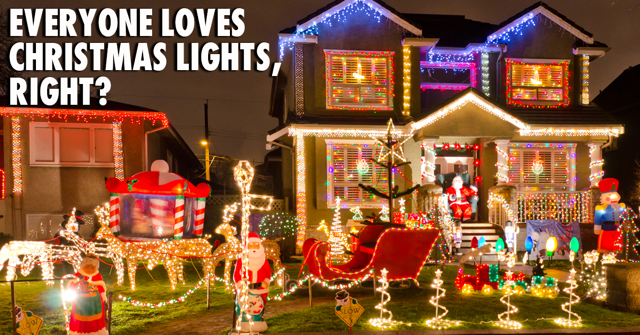 To give in to complaints about Christmas lights or not -- that is the question perplexing little Austell, Georgia. The problem is that the city is under siege by complaints both for and against the traditional decorations that for decades have lit up downtown.
"Some business owners are upset after city leaders decided not to display city Christmas lights on buildings in a historic shopping district," reports Trevor Shirley for Atlanta's WAGA-TV news. 
"City officials say the decision was made after receiving complaints about the lights."
Now the 6,581-population Atlanta suburb is under fire from both sides.
Has complaining about Christmas become an American passtime? It would seem so, says TV and movie star Kirk Cameron who on November 14 is releasing a new film "Saving Christmas."
What's he saving the holiday from? "From commercialism? From saying 'Happy Holidays'? Or from the secularists and the politically correct?" asks Steve Younts,  author of Everyday Talk.  No, Cameron "wants to help us save Christmas from ourselves!"
Christmas discord in  Austell doesn't seem to have an easy solution. City Director of Community Affairs Jim Graham says several merchants did not like paying higher electric bills because of the Christmas lights. Others complained that city workers damaged their historic buildings each year during the lights' annual installation.
So, the lights were cancelled for Yuletide 2014.
And the new round of complaints began.
Shopkeepers say the lights attracted more customers to the area during the Christmas shopping season. So, now they fear a lack of lights could mean less revenue during the holidays.
Less revenue? Is that what's become most important?
What did Cameron say about saving Christmas from ourselves?