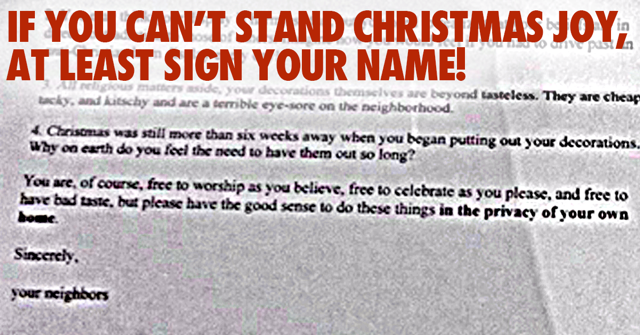 If you're gonna yell "Bah, humbug," at least don't hide behind an anonymous Christmas letter, says a Massachusetts family whose massive display lights up their neighborhood each Yuletide. "Every year for the past four decades, the Hunters have erected a big Christmas display outside their home in Newton, Mass.," writes Billy Hallowell for The Blaze.
Last holiday season, the family received an unsigned letter from somebody claiming to be a disgruntled neighbor declaring they didn't want to see the Hunters' faith on display.
"Not everybody in the neighborhood is Christian and many people do not wish to see such a flagrant display of your beliefs," the letter said.
"In addition to calling the family out for their religiosity," reports Hallowell, "the letter also deemed their decorations tacky, calling them 'beyond tasteless.'
"You are of course free to worship as you believe, celebrate as you please, and free to have bad taste, but please have the good sense to do these things in the privacy of your own home," said the anonymous letter.
Not very Christmasy, notes TV and movie star Kirk Cameron, who is releasing a new movie Saving Christmas on November 14. The film looks at the modern practice of pooh-poohing Christmas joy.
Kelly Hunter told WHDH-TV her family is Christian and they just enjoy celebrating their faith. She called whoever is behind the note cowardly.
In an interview on "Fox & Friends," members of the Hunter family said the letter came as a surprise -- and is a little suspicious -- because their neighbors have always been supportive of the display.
"It makes a lot of people happy. We don't do it for selfish reasons, we do it for everybody," one family member explained.
Oddly enough, the letter was postmarked from Boston, 11 miles away from Newton.
The display tradition was started by Kelly Hunter's father, William Hunter, a local firefighter who is now deceased, the Newton Patch newspaper reported.
The Hunters say they will continue to keep the tradition alive, saying they won't let the unsigned letter bring down their Christmas spirit.
After all, a real Grinch would at least sign his name.