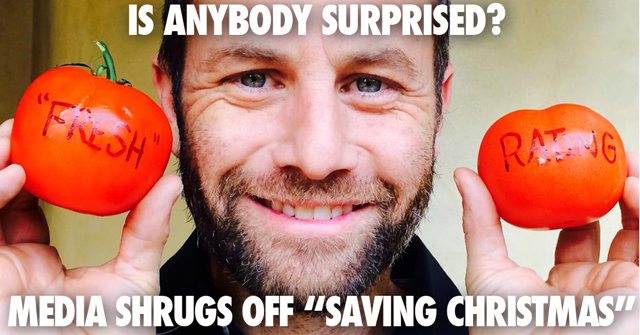 Kirk Cameron's "Saving Christmas" had a decent opening weekend despite dismal ratings by critics in the media.
That is, the public loved it although jaded journalists didn't.
"Kirk Cameron's Saving Christmas debuted over the weekend with scathing reviews," noted the website Inquisitr. "Despite making an estimated $1 million at the box office, the critics were not impressed."
On Rotten Tomatoes, the reviews from professionals were brutal. One exception was the San Francisco Examiner's Joseph J. Airdo:
"Kirk Cameron plays a man who, while enjoying the his sister's (Bridgette Ridenour) annual Christmas extravaganza, decides to help his brother-in-law (Darren Doane), who has a bad case of the bah-humbugs, see that Jesus Christ is at the center of our Christmas celebrations and traditions. (PG - 80 minutes)
"... the new faith-based flick is certain to move you as it poignantly imparts festive food-for-thought while embodying the altruistic spirit of the holiday season. Its hand is heavy but its heart is in the right place. (Thumbs Up!)"
"'Kirk Cameron's Saving Christmas' begins with its host, the former star of 'Growing Pains' and now an evangelical Christian, sitting in an easy chair in front of a fully decorated Christmas tree," noted Ben Kenigsberg for the New York Times. "In his view, the holiday is under siege. 'There are some people who would love to put a big wet blanket on all of this,' he says. 'They don't want us to love Christmas so much and celebrate it the way we do.'
"To illustrate this Bill O'Reilly-ready premise, Mr. Cameron stages an intervention — his word — with a hypothetical brother-in-law, Christian (played by the director, Darren Doane), who isn't feeling the seasonal cheer. Christian worries that Christmas has become too materialistic, too removed from the Bible."
"The faith-based family film starring Cameron," observed Todd Cunningham for The Wrap, "opened in 410 theaters this weekend and took in a little over $1 million for distributor Samuel Goldwyn Films. That's not a breakout by any means, but its $2,486 per-screen average is pretty good, when you consider its 'fresh' or positive rating on Rotten Tomatoes is a dismal 10 percent."
However, some of the most glowing reviews came from Rotten Tomatoes readers.
"All of the critics hating on this movie made me want to see it," wrote viewer Andrew M.
"Saving Christmas has brought joy back into a holiday that has been increasingly given a back seat to secular concepts of removing Christ from an entire national forum." wrote Twyla E. "It helped me deal with some of the issues and nonsense I had walked into because of the relentless attacks on the Christian faith. Simple, it brought joy back. I found I was smiling throughout the movie and can't wait to put up the tree this year and walk in the excitement that that very tree will be pointing to heaven and my Lord and Savior.
"Are we surprised that his movie was rated so low? I'm not," wrote KBearsGal. "ANYTHING that brings to light the TRUTH in Christianity is spit on by the liberal politically correct people. We KNOW who is really behind all the criticism BUT we (Christians) have read the Bible and KNOW what happens to him in the end!!! Praise Jesus!!"
"I enjoyed it a lot," shared Amanda J. "Great reminder Jesus is truly the center of all we celebrate."
"It wasn't what I expected (I don't know what I expected) but I enjoyed it immensely!" offered Sue S. "Not for the non-Christian, but excellent for those who love the celebration and for those who may be feeling that the holiday as we celebrate it here in the U.S. is not 'Christian' enough."